Queens, NY

Grace Lutheran Church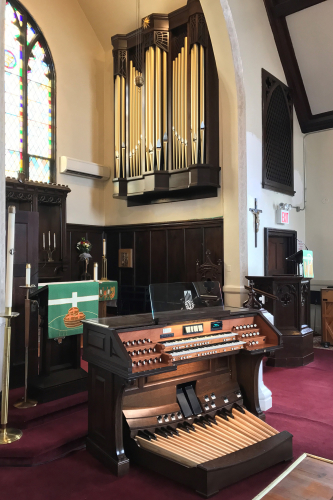 In 1932, Moller Opus 6060 was installed in the Southeast chamber of Grace Lutheran Church in Astoria, Queens, New York. Located just 10 minutes from New York's busy LaGuardia Airport, laid-Back Astoria is a multi-cultural neighborhood of low rise residences and small businesses. Bounded by the East River and the famed Hells Gate railroad bridge, Astoria is also adjacent to three other Queens neighborhoods. Grace Lutheran Church, also known as "Grace Around the Corner", is a modest building constructed in the first quarter of the 20th century. Just a few blocks from the famed Steinway Factory, the Parish is also home to a well-attended school of Kindergarten through 8th grades.
Unfortunately, after years of neglect and unsympathetic mechanical and tonal alteration, the old Moller was due for replacement. Our firm was selected to construct an all new instrument, albeit one that retained 2 ranks of pipes from the previous Moller organ. Cleverly installed in a space-challenged chamber, all stops of our Opus 64 are under expression except for the Great 8' Principal, which comprises the façade. The church also undertook much needed renovations to the chamber to provide better temperature control as well as improved tonal egress. Our signature terraced console, all electric windchests and new tonal scheme are wonderfully complemented by our house built case designed by PJM employee Mark Tenreiro. All members of our staff proudly contributed to the instrument and an open house was offered on July 9th 2017.
The challenge was to provide a suitable, year round, solid, working instrument that can support not only congregational singing, and choral accompaniment but also a reasonable portion of the larger organ literature. Our sincerest thanks to Organist and Director of Music Mr. Henry Lee for his excellent guidance and to Fr. James Klockau for his unwavering support in this project.
Great

Swell

Pedal

16 Gedackt
8 Spindle Flute
16 Subbass
8 Principal (façade)
8 Viola da Gamba
16 Lieblich Gedackt
8 Chimney Flute
8 Vox Angelica
8 Octave
8 Spindle Flute
4 Gemshorn
8  Flute
8 Gemshorn
4 Chimney Flute
8 Viola
4 Octave
2 2/3 Quint
4 Choral Bass
4 Spindle Flute
2 Gemshorn
16 Posaune
2 Fifteenth
2 Flute
8 Trumpet
III Mixture
1 1/3 Quint
4 Oboe
8 Trumpet
16 Basson t.c.
Great to Pedal
8 Oboe
8 Trumpet
Swell to Pedal
Swell to Great
8 Oboe
Zimbelstern w/
rotating star
Swell to Swell 16
Swell to Swell 4
Tremulant –
Affects all stops