Bloomfield Hills, MI

St. Hugo of the Hills R. C. Church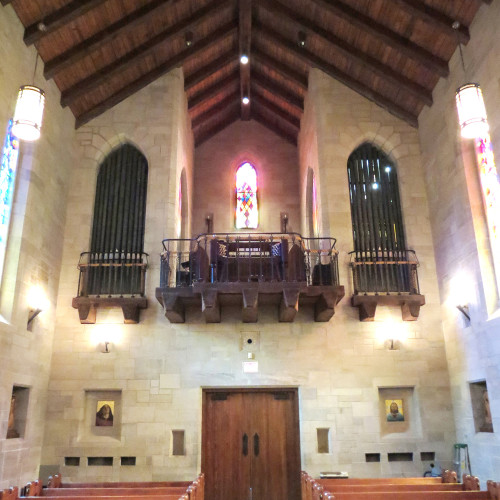 Patrick J. Murphy & Associates is pleased to announce completion of the renovation of the chapel organ for Saint Hugo's Roman Catholic Church located in Bloomfield Hills, Michigan.
The 24 rank instrument was built in 1935 by Casavant Frères of Sainte-Hyacinthe, Québec, as their Opus 1506.  The main organ and console are in the rear gallery, and there is a small echo organ above and to the left of the altar at the east end.   Several tonal changes have been made since the instrument's original installation.
The completed work includes releathering of all chest pneumatics and updating the console with the latest solid state technology. The existing pipework was thoroughly cleaned and voiced for optimal speech.  Several vintage pipe ranks were added to allow the instrument to be more successful in leading congregational singing, accompanying, and rendering the organ literature.
John E. Sittard is Director of Music Ministries and David Enos is Music Associate and Carillonneur.
| | | | |
| --- | --- | --- | --- |
| Great | Swell | Echo | Pedal |
| 8′ Open Diapason | 16′ Gedeckt | 8′ Chimney Flute | 16′ Bourdon |
| 8′ Hohlflute * | 8′ Open Diapason | 8′ Muted Viol | 16′ Gedeckt |
| 8′ Spitzflute | 8′ Stopped Diapason | 8′ Viole Celeste | 8′ Major Bass |
| 8′ Flute Celeste gg | 8′ Viola da Gamba | 8′ Corno d′ Amore | 8′ Stopped Bass |
| 4′ Principal | 8′ Voix Celeste gg | 8′ Tuba * | 16′ Trombone * |
| 2′ Fifteenth | 4′ Principal | Tremulant | 16′ Echo Bourdon |
| II Mixture * | 4′ Traverse Flute | Chimes | |
| 8′ Clarinet | III Dolce Cornet * | | |
| 8′ Tromba * | 8′ Oboe | | |
| Tremulant | 8′ Tuba (echo) | | |
| Chimes | 8′ Tromba (gt) | | *PJM additions |
| | Tremulant | | |