Princeton, NJ

St. Paul's R. C. Church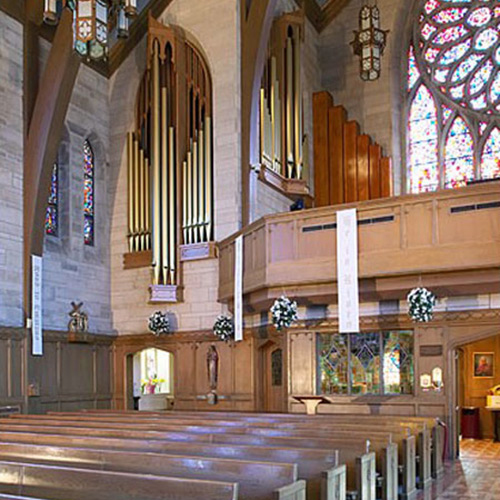 Originally built in 1925 for the recital hall at Baltimore's Peabody Conservatory of Music, Ernest Skinner's Opus 537 was modified in the 1940's and again in the 1950's by Aeolian-Skinner and used until changing needs by the conservatory had rendered it unneeded by the 1970s.  It sat unused for some time until being sold to St. Paul's Catholic Church in Princeton, New Jersey in the early 1980s. At that time it was modified by a local builder to fit into the gallery and chambers at the back of the church. By the early 1990s it was evident that the instrument was in need of a major rebuild if it was going to survive. Wiring failure and poor winding were compounded with layout and installation problems that threatened to silence the instrument forever.
With an expanding music program, the church decided to rebuild the instrument and remove the existing clutter of organ components in the gallery. As a result, the church challenged us to find a way to fit as much of the original instrument as possible into the chambers without compromising the tonal concept.
Since the original Skinner chests were too deteriorated for this retrofit, we decided to replace them with new custom-built Pitman chests. We did, however, retain and rebuild all of the E.M. Skinner/Aeolian/Skinner offset chests and regulators. With careful engineering and planning, we were also able to place all of the organ components into the two chambers. The only exception is the bottom octave of the 32' Bourdon, located along the back wall of the gallery, symmetrically framing the existing rose window.
The sixty-four ranks of pipes were all cleaned and repaired. Where necessary, replacement pipes were obtained to fill in what had been lost or damaged, all in the name of restoring the "Skinner sound" to this majestic instrument. The console, an Aeolian-Skinner replacement at the time of the '50s re-working, was rebuilt utilizing the shell, keyboards and pedalboard along with the ivory drawknob heads. The rest of the console mechanisms were replaced. Harris drawknob actions were installed along with Peterson solid-state relays and combination actions to provide the latest in state-of-the-art controls including 99 levels of memory and MIDI with playback and transposing capability. The result is an instrument of great color and flexibility.
As an instrument that was originally built for teaching and for performance presentations, it is still a marvelous recital organ and is, at the same time, an extremely flexible liturgical instrument to support the changing and growing needs of the parish's music program. The organ was dedicated by one of America's leading concert organists, Todd Wilson.
| | | | | |
| --- | --- | --- | --- | --- |
| Great | Swell | Choir | Solo | Pedal |
| 16′ Bourdon | 16′ Echo Lieblich | 16′ Gamba | 8'Doppel Flute | 32′ Bourdon |
| 8′ Principal | 8′ Geigen Prinzipal | 8′ Violin Diapason | 8′ Violincello | 16′ Contra Bass |
| 8′ Claribel Flute | 8′ Gedackt | 8′ Concert Flute | 8′ Cello Celeste | 16′ Bourdon |
| 8′ Wald Flute | 8′ Gamba | 8′ Viola | 4′ Orchestral Flute | 16′ Violone |
| 8′ Gemshorn | 8′ Gamba Celeste | 8′ Viola Celeste | 8′ Tuba Mirabilis | 16′ Gamba Ch |
| 4′ Principal | 8′ Voix Celeste II | 4′ Principal | 8′ French Horn | 16′ Echo Lieblich Sw |
| 4′ Flute | 8′ Flauto Dolce | 4′ Flute Harmonique | 8′ English Horn | 16′ Bourdon Gt |
| 2 2/3′ Quint | 8′ Flute Celeste | 2 2/3′ Nazard | Tremulant | 8′ Octave |
| 2′ Fifteenth | 4′ Octave | 2′ Harmonic Piccolo | Chimes | 8′ Bourdon |
| III-IV Fourniture | 4′ Triangle Flute | 1 3/5′ Tierce | | 8′ Still Gedackt Sw |
| III Cymbal | 2′ Piccolo | 8′ Clarinet | | 8′ Cello |
| 8′ Trumpet Harmonic Ch | V Plein Jeu | Tremulant | | 5 1/3′ Twelfth |
| 4′ Clarion | 16′ Fagot | | | 4′ Choralbass |
| 8′ Tuba Mirabilis So | 8′ Trompette | | | 4′ Flute |
| Chimes So | 8′ Corno D'Amour | | | IV Fourniture |
| | 4′ Clairon | | | 32′ Harmonics |
| | 8′ Vox Humana | | | 16′ Trombone |
| | | | | 16′ Fagot Sw |
| | | | | 8′ Trumpet |
| | | | | 4′ Clarion |