Agoura Hills, CA

The Episcopal Church of the Epiphany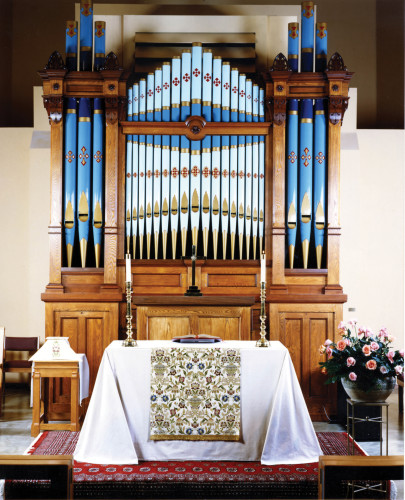 The E. & G. G. Hook Organ Op. 505, was originally built in 1869 for the Greene Street United Methodist Church in Philadelphia, Pennsylvania. In January 1996, organ collector Robert B. Whiting purchased the instrument from the Greene Street church, which by then had closed, and commissioned Patrick J. Murphy & Associates Inc. to restore the organ to its original splendor.
The extensive restoration work, based on the guidelines suggested by the Organ Historical Society, included retabling of both manual windchests and rebuilding of the double-rise bellows. In addition, new wood key action and squares were installed, all pipework was restored with new tuning collars, all casework was refinished and the façade pipes were re-stenciled. Unfortunately, Mr. Whiting passed away before the final installation was to take place in his organ studio. Upon acquisition of the instrument by Patrick J. Murphy from Mr. Whiting's estate, the organ was placed for sale in various trade journals so that a suitable home would be obtained.
In spring 1999 negotiations were completed with The Episcopal Church of the Epiphany in Agoura Hills, California for the purchase of the Hook organ. Installation was completed in fall 1999 by members of Patrick J. Murphy & Associates, Inc., facilitated by members of the Organ Clearing House.
The instrument now resides in a loving, acoustically splendid setting in Ventura County, where it will be used regularly at this vibrant parish. Additionally, it is speculated that this instrument is now the oldest unaltered 2-manual pipe organ in California.
| | | |
| --- | --- | --- |
| Great | Swell | Pedal |
| 16′ Bourdon t.c. | 8′ Open Diapason t.c. | 16′ Bourdon |
| 8′ Open Diapason | 8′ Keraulophon t.c. | 8′ Flöte |
| 8′ Melodia t.c. | 8′ Stopped Diapason Treble | Swell to Great |
| 8′ Dulciana t.c. | 8′ Stopped Diapason Bass | Great to Pedal |
| 8′ Stopped Bass | 4′ Violina | Swell to Pedal |
| 4′ Octave | 4′ Harmonic Flute | |
| 2′ Fifteenth | 8′ Oboe | |
| II Mixture | 8′ Bassoon | |
| 8′ Trumpet | Tremulant | |
| | | |