Scranton, Pennsylvania

Church of the Covenant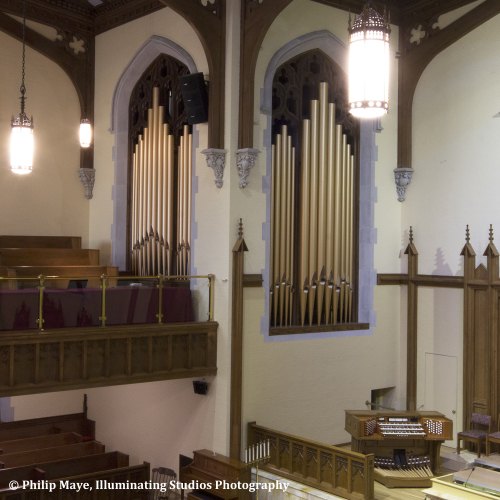 The organ project at Church of the Covenant presented us with the opportunity to demonstrate what can be accomplished when everyone involved works together toward a common goal. What started out as a rather modest console replacement, gradually evolved into a total renovation of the organ and the worship space. As the organ builders, our challenge was discerning how to achieve maximum results from the minimum amount of change.
Continuing in that spirit, the new Patrick J. Murphy & Associates pipe organ combines portions of the existing organ case with new, uses re-purposed pipes gathered from several previously existing organs, and provides brand new windchests, chassis, console and control system.
All of the existing chests were re-leathered and rewired to comply with current NEC codes. Reservoirs were releathered and all winding reconfigured for a much tidier chamber layout. The new, movable console incorporates a state-of-the-art control system and combination action with all the features expected today, including multiple memory, transposer and record/playback.
Clearly, the biggest change is in the Swell division. New chests, expression box, as well as new and revoiced pipework now give the Swell greater accompanying power and a much wider dynamic range. Its tonal center of gravity is a bit lower, making it an equal partner to the Great in building the total ensemble. The Great division is also broader, taking full advantage of the improved acoustic to embrace the congregation with warm, rich sound. The Schlicker tonal ideal of clean, clear choruses is still evident, enhancing the performance of contrapuntal organ literature. New facades of speaking pipes on both the chancel and gallery chamber openings give the organ a restored visual presence that matches the rest of the room.
Great

Swell

Positive

Pedal

16′ Violone (ext)
16′ Gedackt* (ext)
8′ Violone (gt)
32′ Principal**
8′ Principal
8′ Geigen Diapason*
8′ Gedackt
32′ Bourdon**
8′ Spitzflute
8′ Rohrflute*
8′ Unda Maris II
16′ Open Wood Diapason
8′ Bourdon
8′ Salicional*
4′ Principal*
16′ Principal*
8′ Harmonic Flute*
8′ Voix Celeste*
4′ Rohrflute
16′ Violone (gt)
8′ Violone
8′ Flute Celeste II*
2′ Principal
16′ Contra Viola (prep)
8′ Salicional (sw)
4′ Principal*
1 ⅓′ Quint
16′ Subbass
4′ Octave
4′ Traverse Flute*
II Sesquialtera
16′ Gedackt (sw)
4′ Bourdon (ext)
2′ Waldflute*
III-IV Scharf
8′ Octave* (ext)
2′ Nachthorn
III-IV Mixture*
8′ Clarinet*
8′ Subbass (ext)
IV Cornet 25-49
16′ Double Trumpet*
   Tremolo
8′ Violone (gt)
IV-V Mixture
8′ Trumpet* (ext)
   Chimes
8′ Rohrflute (sw)
16′ Double Trumpet (sw)
8′ Oboe*
4′ Choralbass
8′ Trumpet*
4′ Clarion*
4′ Bourdon (ext)
   Chimes
   Tremolo
III Mixture
32′ Contra Trombone**
All normal Unison and Octave Couplers
16′ Trombone*
16′ Double Trumpet (sw)
*New or substantially revoiced by PJM
8′ Trumpet* (ext)
4′ Clarion* (ext)
** Digital
4′ Oboe (sw)