Musically Superior

Pipe Organ Builders
Master Craftsmanship
Our team of experienced craftsmen regard what we do as a labor of love. The same artisans who conceive the instrument engineer and produce it in the shop and then see it through to completion on-site. Our company is small enough to be responsive, and large enough to make it happen.
We might be considered a "Boutique Builder" with our unique designs, global outlook, premiere quality craftsmanship and materials. Yet we are real-world pragmatists, offering a down-to-earth approach, and placing a high priority on personal relationships. Elegance with a total lack of pretense.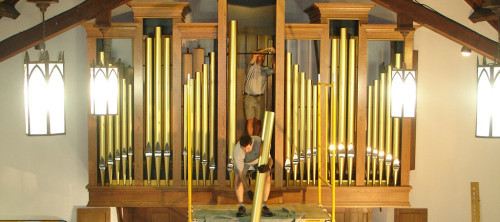 A Wealth of Experience
With nearly 200 total years of industry experience in design, construction, repair and maintenance of pipe organs, the staff at Patrick J. Murphy & Associates, Inc. brings this vast knowledge and practical expertise to every project. In short, we believe that our hands-on approach and years of experience in finding pragmatic solutions is what sets us apart in all that we do.
As one of the few nationally known pipe organ builders that also routinely provides maintenance and tuning services to various makes and types of instruments in the local area, we bring a unique, long-term perspective to organbuilding: a relationship of stewardship and partnering with our clients for a sense of ownership over the lifetime of the instrument.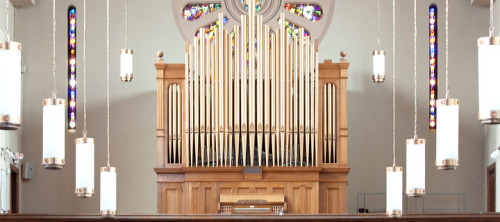 Artistic Pragmatism
In close partnership with our clients we develop and provide an artistically pragmatic solution, specific to their unique and specific set of circumstances. Whether a custom built instrument or the rebuilding or renovation of an existing instrument, a tremendous amount of thought and care goes into the development of every project.
We often find that the visual and tonal design of the instrument and its mechanical layout will evolve as we learn more about the space, the needs of the organist and congregation and its liturgical traditions. Our goal is a final product worthy in its scope of the glory of God, thrilling to those who worship with you, and a legacy for generations to come.